Dear Members of the Pacifica Community,
On behalf of the Board of Trustees and the Presidential/CEO Search Committee, we are proud to announce Dr. Leonie Mattison as the incoming President and CEO of Pacifica Graduate Institute.
This is certainly a spirited time in our Institute's history, and we are confident that the foundation laid by this extensive process—involving input and deliberation from a wide range of constituents and stakeholders, including those of our campus community—allowed us to choose the best leader for Pacifica at this time and our future.
Following an extensive international search, utilizing Lindauer Global Search Firm, our Board unanimously selected Dr. Mattison from an inclusive and impressive pool of candidates. She will assume her duties as President on October 3, 2022.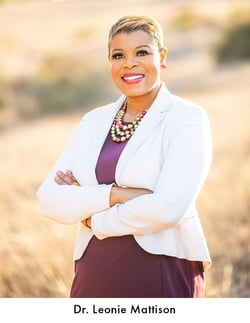 Dr. Mattison is a seasoned organizational development professional with over 20 years of experience in transformational leadership.  Her contributions have helped strengthen national public health research, regional workforce development, and adult educational reform across the country, continuously elevating and enhancing the profiles of the organizations she's worked with.
During her tenure with the County of Santa Barbara, she managed budgets, implemented curricula, and secured accreditation for the Employees University, an open-source university created in partnership with Santa Barbara City College to provide high-quality training and cutting-edge leadership development for over 4,700 County employees.  In her position with CommUnify, a community action agency providing education and supportive services for Santa Barbara's most vulnerable residents, Dr. Mattison cultivated a learning culture improving the Agency's performance and uplifted credibility statewide.
With a Doctorate and MBA in Organizational Leadership, Dr. Mattison has a gift for building sustainable organizations through employee engagement, leadership development, and cultivating and appreciating data-driven, transformational growth.  Her cross-cultural and inclusive partnerships span across the fabric of organizations internally and externally, solidifying collaborative and unifying partnerships. She has navigated cultures rife with hostility, low employee morale, and poor communication by focusing on people, practices, and performance in an inclusive and shared fashion. This trait was one echoed throughout all stakeholder groups at Pacifica as a necessity, and we are excited with Dr. Mattison's unique ability to listen and repair.
Having personally worked with a Pacifica graduate on her own healing journey through trauma, Dr. Mattison is passionate about the institute's mission and the calling on Pacifica for a worldwide, life-changing impact. So inspired, she has added to the body of work with her six-step T.H.R.E.A.D. methodology integrating Jungian psychology, pedagogy, and spiritual practices to invite others into the exploratory journey of tending to and healing the soul.
Dr. Mattison is a member of the American Psychological Association, American Christian Counseling Association, and Association of Black Psychologists, among other educational and professional organizations.
When asked how she will begin her leadership journey with Pacifica, Dr. Mattison says, "As we deepen into courage and integrity, we experience the power of joining hearts to meet people where they are; hands to hold one another through crisis, and heads to imagine new ways of serving the whole. I welcome working together, holding heads, hands, and hearts into the future of Pacifica.  It is the collective unit that will allow Pacifica to live into its' worldwide mission to tend souls."
Dr. Mattison served as an adjunct professor and lecturer with Antioch University and Santa Barbara City College School of Extended Learning. She was most recently recognized in the Santa Barbara Independent for her publication, The Thread: Six Steps to Intentional Transformation from Trauma or Crisis. The Thread spells out six practical, powerful, and purposeful steps to transforming negative situations into positive outcomes.
Coupled with her love for and interest in the classroom experience, Dr. Mattison is deeply engaged in understanding Pacifica's approach to online and related forms of learning specifically on issues fundamental to supporting the whole student through their adult education journey including recruitment, development, graduation, and career growth.
Dr. Mattison also has a clear understanding of financial infrastructure at national and local institutional levels and has collaborated with university leadership on issues such as tuition, financial aid, endowment distribution, and debt and liquidity, while directly managing a considerable annual budget. She has also successfully secured multi-million dollar grant funding, participated in major gift fundraising efforts, and brought philanthropic and corporate revenue strategies engaging funding negotiations and stewardship issues.
With proven success and truly stellar recommendations, our Board is enthused to welcome Dr. Mattison and her three children, granddaughter and their rescue dog to our Pacifica community. We believe strongly that Dr. Mattison's character, decision-making, and collaborative spirit will position Pacifica for excellence in the years ahead, and only amplify the great work of our former President, Dr. Joseph Cambray (2022) and the legacy of our founder, Dr. Stephen Aizenstat.
We want to express our heartfelt thanks to the Presidential Search Committee. The impact of your efforts simply cannot be overstated. We would also like to thank as well the students, faculty, staff, alumni, and friends who patiently and dutifully contributed their support and perspectives throughout this process.
Dr. Mattison's welcome to campus will be coordinated by a transition team consisting of a subset of members from the Presidential Search Committee.  The team will be led by Dianne Travis-Teague, Senior Director of Alumni Relations, who has over 20 years of direct executive, technical, and operations experience utilizing organizational, policy direction, financial, and hospitality expertise.  Dianne was very instrumental in coordinating digital platforms, scheduling, and research during the Presidential process. We are happy that she has accepted this assignment in addition to her current duties.  For additional information on the transition, please contact Dianne Travis-Teague at dtravisteague@pacifica.edu.
With great pride,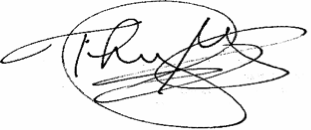 Dr. Thyonne Gordon
Chair of the Board of Trustees